What is Suboxone?
What is Suboxone? Suboxone is the first narcotic drug available for prescription from a doctor's office for use in the treatment of opioid dependence under the Drug Addiction Treatment Act of 2000 or DATA 2000. Suboxone is a registered trademark of and manufactured by Reckitt Benckiser Pharmaceuticals.
Suboxone is in the FDA pregnancy category C. This means that it is not known whether Suboxone will be harmful to an unborn baby. Use of this medication during pregnancy may cause withdrawal symptoms in a newborn baby. Do not take Suboxone if you are pregnant or could become pregnant during treatment. Buprenorphine and naloxone pass into breast milk and may be harmful to a nursing baby. Do not take this medication if you are breast-feeding a baby.
What is Suboxone? Suboxone is a combination of two active ingredients: buprenorphine and nalaxone. Each medication that makes up Suboxone serves a unique purpose. Buprenorphine eases the horrible withdrawal effects suffered by addicts who try to quit opiates. Opiates are Vicodin, Percocet, OxyContin, heroin and methadone. Keep in mind, Suboxone works only for opiate addiction. Naxalone undoes the effects of opiates.
The primary active ingredient in Suboxone is Buprenorphine, which itself is a partial opioid agonist. This means the opioid effects and withdrawal symptoms from Buprenorphine are less than other full opioid agonists such as heroin, methadone, morphine, oxycodone, hydrocodone, codeine, and others.
Suboxone, taken as sublingual tablets or "under the tongue", has been shown to help in suppressing opioid withdrawal symptoms, decrease illicit opioid cravings and use, and under the correct supervision can help with overcoming an opioid dependence. Suboxone comes in 2mg and 8mg sizes of sublingual tablet form.
Suboxone contains naloxone, which blocks the effects of medicines and drugs like methadone, morphine, and heroin. This is added to prevent people from injecting Suboxone and improper use of the medication. Injecting naloxone can cause withdrawal symptoms.
Suboxone is the most commonly prescribed medication and given to patients during the maintenance phase of opiate addiction treatment. Because Suboxone has a lower potential for overdose and abuse, unlike methadone, Certified Doctors are able to prescribe take home supplies of Suboxone in certain circumstances.
What is Suboxone and how is it used? Detoxification is the procedure of encouraging the body to purge itself of a drug. It is that detox is medically supervised and managed. Before any type of drug treatment program can be started, detox has to be the front-line approach. Detox will not work to combat addiction alone. Shortly after the addictive substance is stopped, withdrawal symptoms generally begin. How long the withdrawal will last and how severe the symptoms will be depend on the substance being abused. During Suboxone detox, the brain's opiate receptors are cleaned of opiates while the patient basically sleeps.
Why use Suboxone? The purpose of Suboxone for detox is to decrease the pain and discomfort of withdrawal. Suboxone can be administered during the withdrawal period, which lasts up to a week, and then formal treatment can begin, but it is nearly impossible to keep an addict from using without relieving him during withdrawal. The first thing a doctor will do is evaluate the patient's medical history to see if he is a candidate for Suboxone detox.
The first dose of Suboxone is administered after the withdrawal symptoms begin, because if the Suboxone is taken too soon it can be counterproductive and actually trigger withdrawal. The withdrawal symptoms do not have to be severe but at least indicative that enough of the opiate has been purged from the body.
The initial dosage of Suboxone will be administered by your physician so she can adjust your dose if she needs to. Sometimes Suboxone is administered and managed on an outpatient basis, and other times it is used as part of a residential treatment program. Patients may be given a prescription of Suboxone to take home. It is crucial that this medication is taken as directed. What is Suboxone? Suboxone comes in a pill that is positioned under the tongue until it completely dissolves. It cannot be swallowed.
Suboxone can be taken either short term or long term, dependent on what the treatment specialist suggests. When it is used for the short term, it is used for the sole purpose of getting the user through the difficult withdrawal time. The formal treatment approach would continue. Sometimes the user can continue taking Suboxone at home after the withdrawal period and function at full capacity while often continuing on the medication for long periods of time.
What is Suboxone and its' associated risks? Suboxone can cause death from overdose, especially if it is injected with a tranquilizer. Use this medicine exactly as directed by your doctor. Suboxone can cause drug dependence. This means that withdrawal symptoms may occur if you stop using this medication too quickly. Withdrawal symptoms may also occur at the start of treatment due to dependence on another drug. Suboxone is not for occasional ("as needed") use. Do not stop taking Suboxone without first talking to your doctor. Your doctor may want to gradually reduce the dose to avoid or minimize withdrawal symptoms. In an emergency, have family members tell emergency room staff that you are taking Suboxone and that you are dependent on opioids.
Use caution when driving, operating machinery, or performing other hazardous activities. Suboxone may cause drowsiness, dizziness, or impaired thinking. If you experience drowsiness, dizziness, or impaired thinking, avoid these activities. Avoid alcohol while taking this medicine. Alcohol may dangerously increase drowsiness and dizziness caused by the medication.
Suboxone may dangerously increase the effects of other drugs that cause drowsiness, including antidepressants, alcohol, antihistamines, sedatives (used to treat insomnia), other pain relievers, anxiety medicines, and muscle relaxants. Tell your doctor about all medicines that you are taking, and do not take any other prescription or over-the-counter medicine, including herbal products, without first talking to your doctor.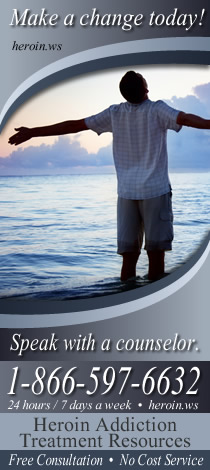 HEROIN FACTS
Heroin use can cloud a user.s judgment.

---

Injecting heroin is a quicker and more dangerous way to get "high."

---

Heroin use will lead to respiratory arrest, coma, and death.

---

Injecting heroin, either into a muscle or directly into a vein, makes heroin much more dangerous.

---

Heroin is a highly addictive drug that is derived from morphine.

---

Fatal overdose and high risk of infections are short term effects of heroin use.

---

Heroin addiction starts with dependency on the drug use.

---

If users inject heroin directly into your blood stream, users can feel the effects in less than eight seconds.

---